Advancing Portable Documents for the Open Web Platform: EPUB-WEB
2014-11-26
Markus Gylling

, IDPF, and

Ivan Herman

,

W3C
This work is licensed under a Creative Commons Attribution 3.0 License, with attribution to W3C and IDPF
Copyright ©2014 IDPF® and ©2014 W3C® (MIT, ERCIM, Keio, Beihang)
Bridging the Web and Digital Publishing: EPUB-WEB
Markus Gylling

, IDPF, and

Ivan Herman

,

W3C
2014-11-26
This work is licensed under a Creative Commons Attribution 3.0 License, with attribution to W3C and IDPF
Copyright ©2014 IDPF® and ©2014 W3C® (MIT, ERCIM, Keio, Beihang)
EPUB-WEB is a vision for the future

The vision
Portable documents are fully native citizen of the Open Web Platform
Separation between online (i.e., the "Web") and portable (i.e., "EPUB") is diminished to zero
This means:

Content authored for primarily offline use can be used online by loading it into a browser
Content authored for primarily online use can be easily saved as a portable document for offline use
These should be doable smoothly, solely based on the user's interaction
The vision
Publishers can choose to utilize either or both of these publishing modes
Users can choose either or both of these consumption modes
Essential features flow seamlessly between on-line and off-line modes, like

cross-references, user annotations, access to on-line databases
licensing and rights management
etc.
EPUB at an inflection point
EPUB 3 is getting adopted by publishers
But rendering EPUB 3 requires:

browser extensions; or
significant development on top of "browser cores" for software/hardware solutions

EPUB as "first class Web citizen" would mean an easier and quicker deployment
Web Platform at an inflection point
Usage of (mobile) apps come to the fore (although often based on the same "browser cores")
EPUB-WEB development would go in parallel with the development of general issues like packaging, metadata, or offline support
For example: book in a browser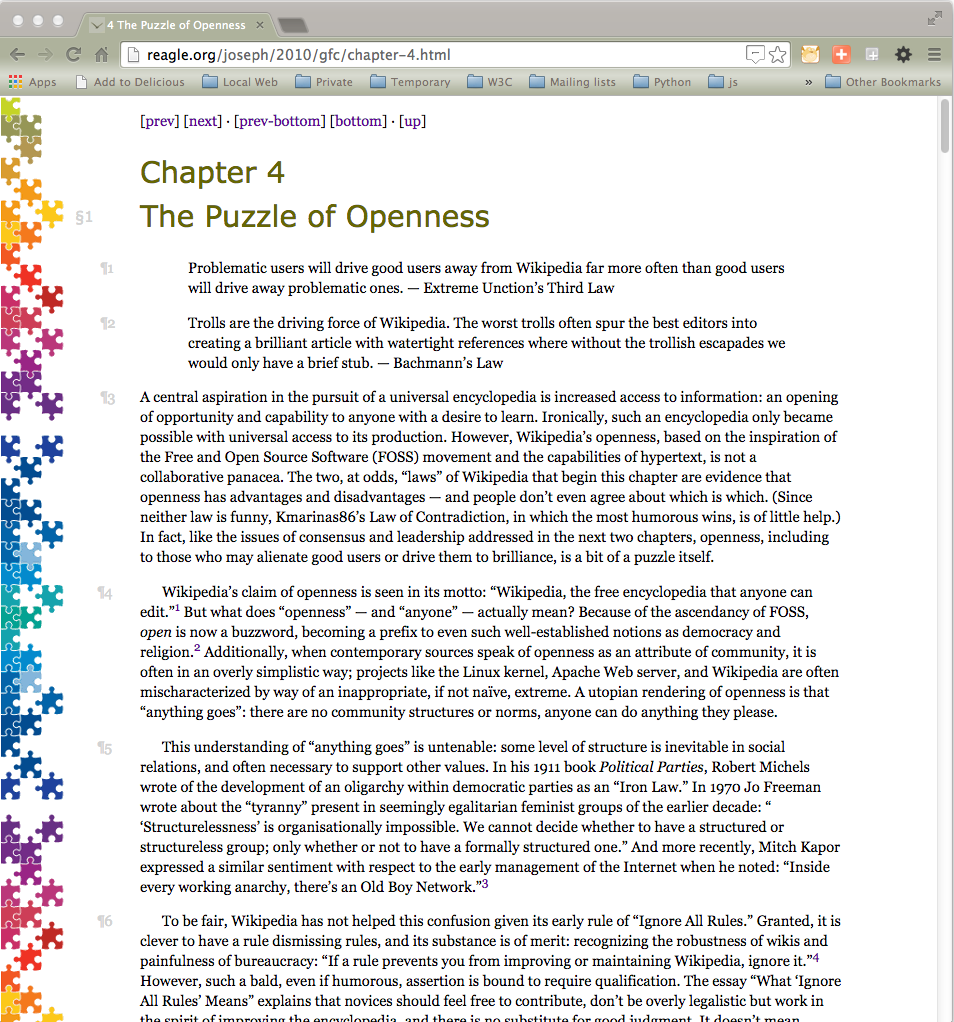 On a desktop I may want to read a book just like a Web page:

easily follow a link "out" of the book
create bookmarks "into" a page in a book
use useful plugins and tools that my browser may have
For example: book in a browser (cont.)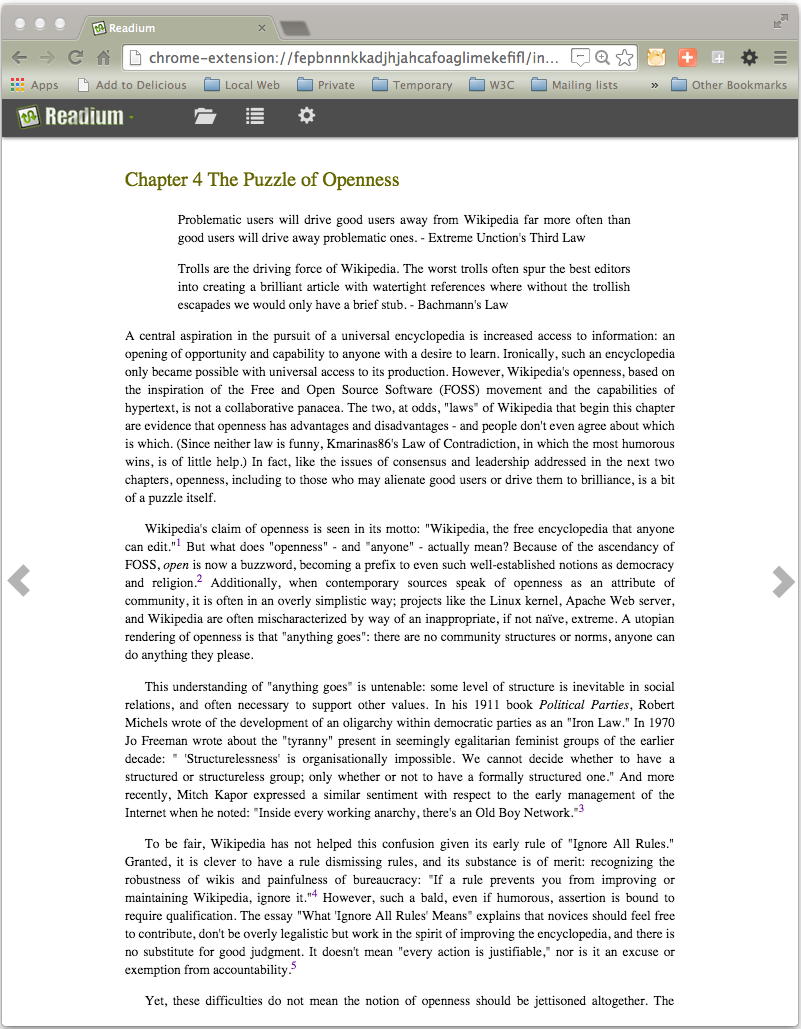 But:

my book may be 2000 pages long
conventional Web browsing may not be the right way to view content, a paginated view may be better
I may also want to use a small dedicated reader device to read the book on the beach…

All this should happen using the same book, and not a conversion from one format to the other!
For example: I may not be online…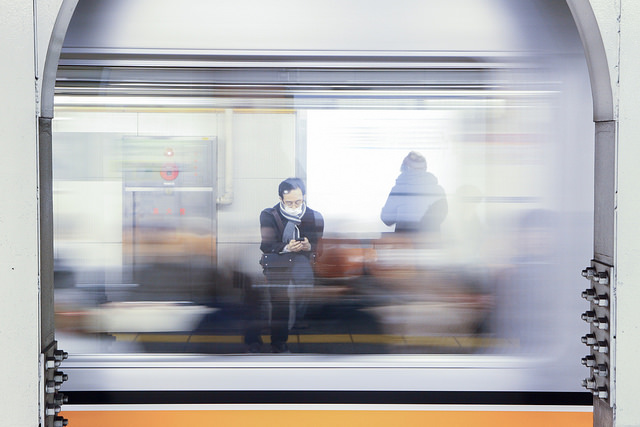 I may find an article on the Web that I want to review, annotate, etc., while commuting home on a train
I want the results of the annotations to be back online, when I am back on the Internet
Note: some browsers have an "archiving" possibility, but they are not interoperable

the content can definitely no be read on a dedicated reader
For example: scholarly publishing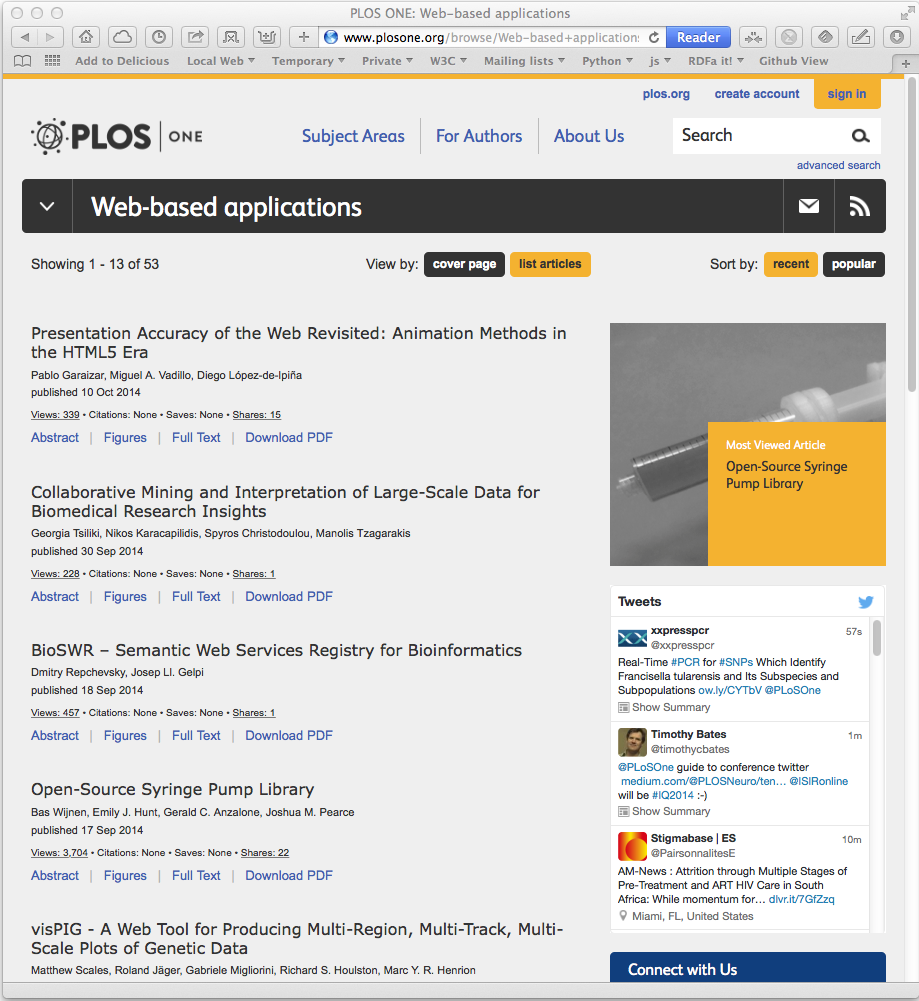 My paper is published, primarily, on-line, but people may want to download it for offline use
The format of the paper should be adaptable to my reading environment

do not want a two column, fixed layout file that I cannot handle on my iPad…

My "paper" may also contain video, audio, data, programs…

scholarly publishing is not text only any more!
For example: in-house publishing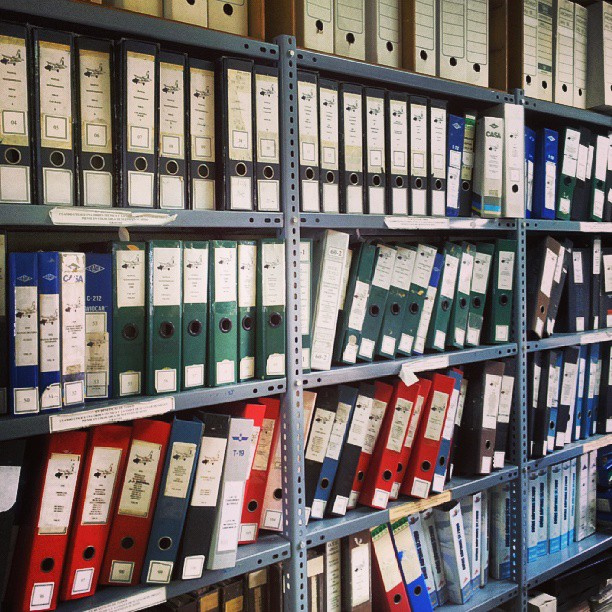 Major companies (IBM, Intel, Boeing, FAO, Renault,…) are specialized publishers through the publication of huge amount of documentation
Delivering it on paper is not an option any more
Fast refresh time is needed
The same document should be available offline (e.g., in the cockpit) or online (e.g., on the work floor): there should be no difference between the two
For example: archival and preservation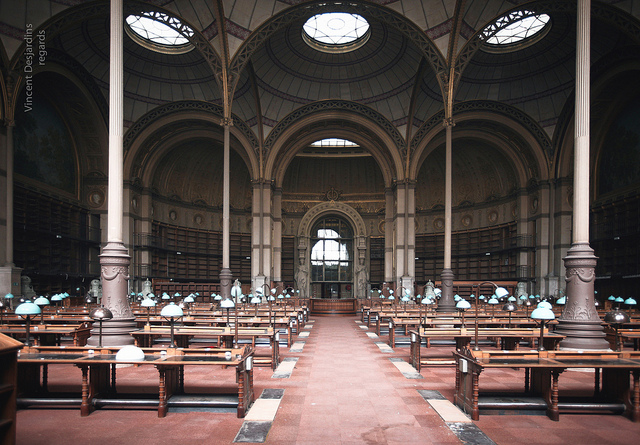 Archiving digital assets (i.e., Web pages with all dependencies) is a major problem
There is a need to produce, easily, a complete version of a page to be stored through archival facilities
For example: educational materials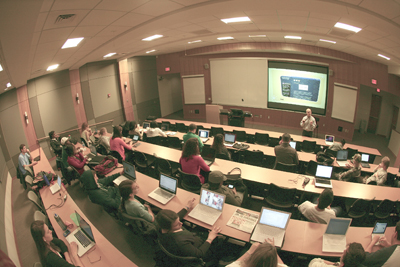 What is an educational publication?

A book of possibly long texts that requires offline access on dedicated devices?
A packaged application with built-in interactive tests, animated examples?
A Web client reaching out to Web services for assessing test results, to encyclopedia, …?
An interactive data container storing various data for, e.g., demonstrations?

The borderline between a "book" and a "(Web) Application" are becoming blurred!
Synergy effects of convergence
Advantage for publishers' community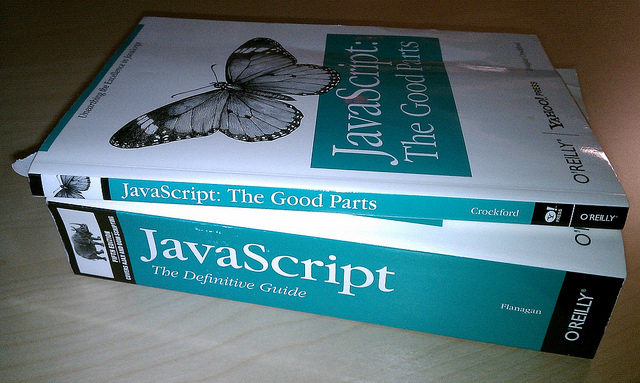 Publishers want to concentrate on what they know better: how to produce, edit, curate, etc, great content
Publishers are not technology companies, nor do they intend to be; they want instead to rely on the vibrant Web community!
Advantage for the Web community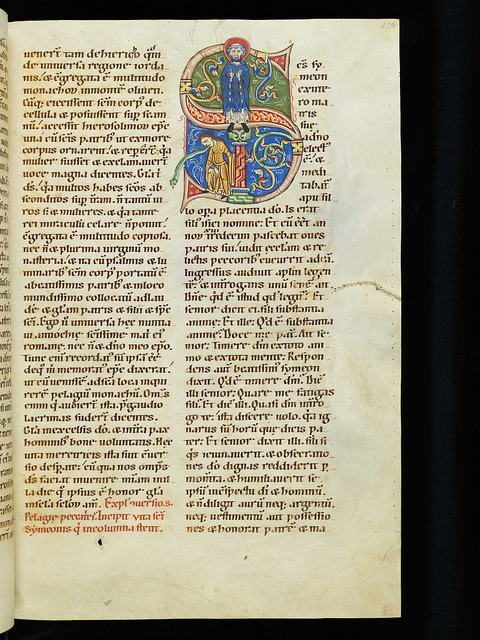 Publishers have a long experience in ergonomy, typography, paging, complex layout, etc.
Publishing long texts, with the right aesthetics, readability, structure, etc., is an expertise the Web community can profit from
Experience of publishers in the complete curatory workflow for producing content may become important for Web design
Some communities that may be affected
| | |
| --- | --- |
| (Trade) Publishers | STM Publishers |
| Browser vendors | Large companies |
| Governmental bodies | International institutions |
| Consumers of ebooks | Scholarly authors |
| Web designers | Archivists |
| Web Developers | Publishing workflows |
How do we get there? (Technically)
How do we get there?
A strong cooperation between the different communities should be ensured
Technical challenges must be identified
A new generation of EPUB ("EPUB-WEB") has to be specified
In what follows some of the main technical issues will be highlighted
Archival format
EPUB is based on ZIP
There is no standard packaging format for browsers yet…

although there is a need for, e.g., applications or data sets

… but ZIP may not be the right approach on the Web

Multipart Mime may be an alternative

There is a new work item at W3C on packaging standard whicht may affect EPUB-WEB
Overall document structure
A complete, offline content needs additional information

list of all necessary content, default reading order, etc.
in EPUB these are stored in additional, auxilliary files ("spine", etc.)
these may have to be adapted to EPUB-WEB (e.g., usage of JSON instead of XML)

But these data may not be necessary for a simple Web page with a few CSS files

i.e., some sort of a default structure should be defined

User interaction paradigms should also be developed to create documents from more complex Web sites easily
Identification
A consise and unique identification for the document (e.g., the "work") under various usage patterns is necessary

i.e., what is the URI for…

Shakespeare's Hamlet?
its digital edition published by Publisher XYZ?
the copy I own and annotate?

This is necessary to make a book a first-class citizen on the Web
B.t.w., this is already the topic for debates in the publishing and library communities…
Identification (cont.)
Unique identification of the work is not enough
A fragment identification framework is also necessary to link into the document
There are fragments defined for various media, but a universal model, workable for browsers, is still missing

these should be agnostic to offline vs. online state, to media type, etc.
Works are already ongoing within the framework of activities around annotations
Metadata
EPUB-WEB must make use of browser friendly metadata formats (RDFa, JSON-LD, µdata) to carry metadata
EPUB-WEB should also provide means to link to external metadata
A typical area where a solution for identification (including fragment identification) is essential
Improvement on styling
Books usually need higher quality typesetting than average Web pages

control over fine aspects of drop caps, alignments, justification, hyphenation, bleeds, etc.
Pagination, numbering, indexing
What is a "page" for an electronic content?

is this a new CSS concept? Do we need an extension to the DOM?

In general, content may be placed into linked regions
References (page numbers, references to pictures or diagrams, bibliographic references, etc.) should have robust mechanism across several documents/regions

e.g., if the book's chapters are stored in different files
page numbers can dynamically change as a result of user interaction, e.g., larger fonts
numbering of items should be automatically continuous across documents
Security and Privacy
The Web/browser mechanism is based on the control per "site", or a "web page", largely based on user/password
Current publishing practices are very divergent (strict DRM, watermarking, social DRM, etc.)
A consensus solution will be needed
Presentation control
What is the level of user control of the presentation?
The Web and eBook traditions are vastly different:

In a browser, the Web designer is in full control

CSS alternate style sheets are hardly in use
some user interface aspects can be controlled but only for the browser as a whole

In an eBook reader, there may be more user control

foreground/background color
choice of fonts

There is a need to reconcile these traditions
How do we get there? (Practically)
What is next?
We collect comments on this vision

collecting (public or private comments) to the White Paper
discussions at various events with the communities at large
internal discussions at IDPF and W3C

Develop a more specific roadmap

what are the specific technical specifications that have to be developed?
what other work should be "influenced"?
what groups should be set up at IDPF and/or W3C?

Regular updates of the White Paper based on the comments
If there is a consensus
Work with existing IDPF and W3C groups, where necessary, on specific details
Set up a new group (or groups) to define the EPUB-WEB specific issues
Conclusion
There is a great potential in a convergence between the Open Web Platform and Portable Documents
It will require a common effort and cooperation of both communities
But it is an exciting prospect!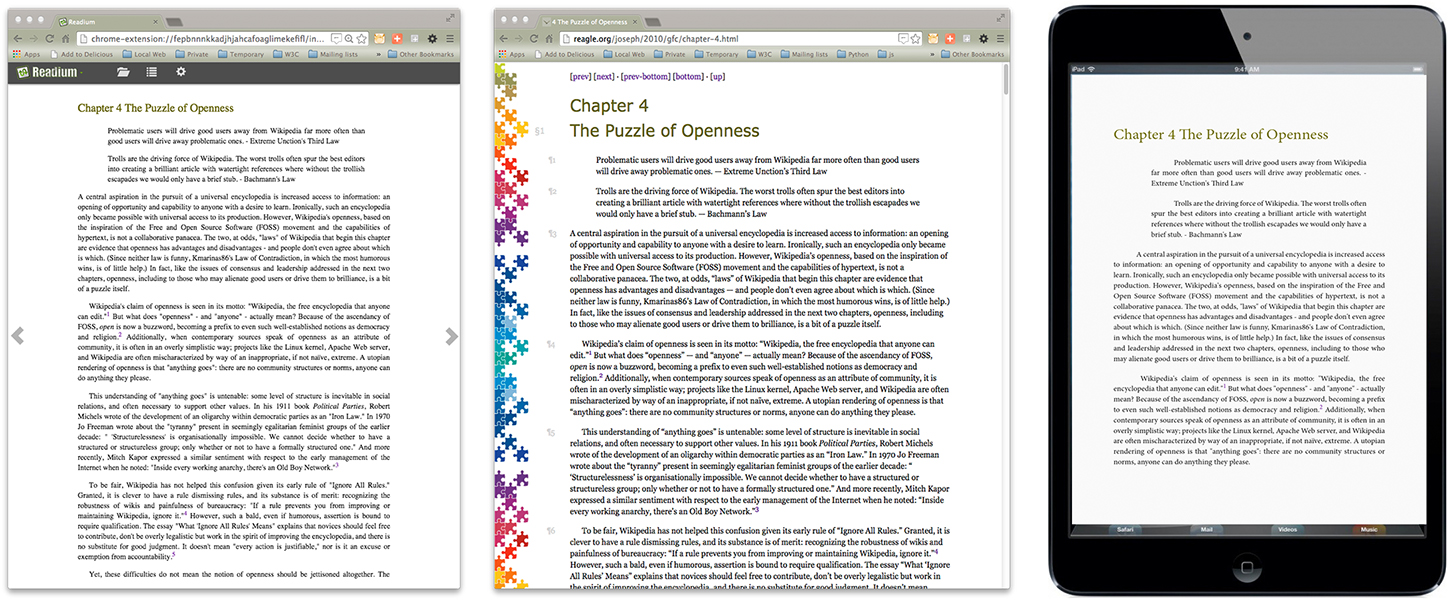 Some pointers
White paper:

Issue list:

These slides:

Direct contacts:

Markus Gylling, IDPF

mgylling@idpf.org

Ivan Herman, W3C

ivan@w3.org
Thank you for your attention