Intended audience: XHTML/HTML coders (using editors or scripting), script developers (PHP, JSP, etc.), CSS coders, and anyone who wants to know how to use ruby annotations.
Ruby is the name given to the small annotations in Japanese and Chinese content that are rendered alongside base text, usually to provide a pronunciation guide, but sometimes to provide other information. We will assume that you are familiar with ruby, and how you want it to look. (If not, see the short overview of how ruby works.)
This article will only discuss how to use CSS styling to affect the rendering of ruby content. For information about how to create the markup needed to support ruby, see Ruby Markup.
The editor's draft of the CSS Ruby Layout Module Level 1 provides a number of initial properties for describing the placement of ruby text in relation to the base text. Later versions of the spec are expected to add more properties. Note that this specification is not yet finalized, so this page will aim to give you an idea of what to expect if it is fully implemented, as well as describing what is currently supported.
We won't simply reproduce the spec itself here, but rather provide guidance about how content authors can achieve key techniques. We will assume that your ruby content is marked up appropriately, so that the mapping between ruby bases and ruby text is correct.
This section provides some suggestions for how to style annotations with Japanese and Chinese. The expected behavior is based on the layout requirements documents for Japanese (JLReq) and Chinese (CLReq). Only the more common configurations are described here; subsequent sections explain how to do fine tuning.
What follows assumes that you have used markup to map ruby text annotations to base characters appropriately, as described in the article Ruby Markup.
This section looks at how you make the ruby text appear above, below or to the side of the ruby base text.
In some situations you may want the annotations to appear inline, after the base text. For example, the Ruby markup article describes how complicated kanji characters with ruby on top can create accessibility issues. In other cases you may want to do this because the user interface is too small for ruby text to be legible, or because you want to repurpose the content for another type of application, etc.
When both base text and annotation are side by side on the same line, it's important to be able to identify which is the annotation, and where it starts and ends.
The chief issue with all these approaches is that there isn't one set of CSS rules that can be applied to all content. If your page mixes the rp, interleaved, and tabular approaches, you'll need to use classes to indicate which set of CSS rules to apply to that particular ruby element.
If you use rp markup to specify what characters to use as delimiters and where to place them, you need to render the annotation inline and make the delimiters (which are invisible by default) visible.
You could use this, which changes the display value for the rt elementand sets the font size to be the same as the base text (overriding the default size for the rt element set by the browser).
The rest of this section looks at how you can use CSS if your content doesn't have rp markup.
If you are quite happy for annotations to appear immediately after the base character(s) they are attached to, your content may be using the interleaved approach to ruby markup, and the expected outcome would be like this.

In addition to making the rt content display appropriately inline (as mentioned earlier), you will also need to surround each annotation with something, to set it off from the base text. Here we use the before and after pseudo-elements to surround it with parentheses.
If you want all the annotations for a given word to follow that word, grouped together as shown here, your content will use the tabular markup approach.

Producing inline annotations in this case is a little more complicated if you're not using rp markup.
When the ruby text annotation is longer than the ruby base it belongs to, or vice-versa, there can be several different ways of dealing with the extra space that is lying around. The CSS Ruby spec deals with this mostly through the use of the ruby-align property.
It's best to use this property on the ruby element.
If you are working with inter-character bopomofo ruby, none of this is relevant, since the positioning of the bopomofo characters and tone marks is fixed.
You may want to attach ruby annotations to a word such as 振り仮名 (furigana) without adding the redundant り.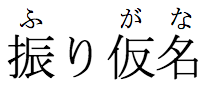 One way to achieve this would be to simply leave a blank rt element, like this:
This would pose a problem, however, if you wanted to display the annotation inline: instead of 振り仮名(ふりがな) you would see 振り仮名(ふがな). It can also present problems if you want to merge ruby annotations across a compound noun (something which may be introduced later).
The CSS spec proposes a solution for this. If the base text and corresponding annotation are identical, browsers should not show the annotation unless it is part of an inline sequence. So you could use the following code to produce this effect, without any special styling, if the browser supports it.
The article describes behavior for the following browser versions. We will try to update the article as behavior changes.
| Browser | Version | Engine | Other browsers using that engine |
| --- | --- | --- | --- |
| Firefox | 51.0.1 | Gecko | Conkeror, etc. |
| Chrome | 56.0.2924.87 | Blink | Opera, Vivaldi, etc. |
| Safari | 10.0.3 | Webkit | iOS-based browsers, Yandex, UC Browser, etc. |
| Edge | 38.14393 | EdgeHTML | |
| Internet Explorer | 11.0 | Trident | |
Link it to overhang (which gives more room by overlapping adjacent bases)
Figure out what to do about ruby-merge – present as managing compound nouns, ie. managing the space within adjacent ruby pairs?
section on styling base text, including removal, replacement with boxes (for educational text), etc.
clarify space handling - do this in ruby markup article too
setting line height
making line head and end flush