Problems with conjuncts
Now we examine some of the problems encountered when dealing with conjunct forms.
Grapheme clusters
In order to approximate user-perceived character units for editing operations, Unicode uses a set of generalised rules to define grapheme clusters – sequences of adjacent code points that can be treated as a unit by applications.
Typically, a grapheme cluster is a single base character plus any combining characters that follow it. A single alphabetic character like e [U+0065 LATIN SMALL LETTER E] is a grapheme cluster, but so also is ề [U+0065 LATIN SMALL LETTER E + U+0302 COMBINING CIRCUMFLEX ACCENT + U+0300 COMBINING GRAVE ACCENT].
Grapheme clusters don't span conjuncts
The figure just below shows how the Bengali word 'jhilli' is split into its two orthographic syllables, 'ji' and 'lli'. The second orthographic syllable is a conjunct, representing a doubled 'l' sound followed by the sound 'i'.

The code points in that conjunct are: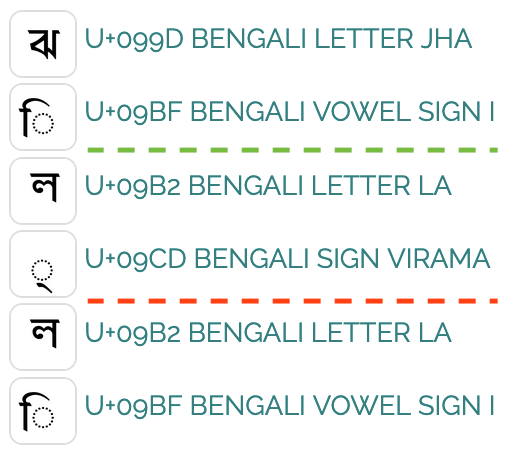 As you can see, the conjunct, which must not be split, involves more than one grapheme cluster, because as soon as a sequence of characters composing a grapheme cluster meets another base character it terminates.
This means that for scripts of this type, additional tailoring rules need to be applied, over and above grapheme cluster segmentation, in order to identify appropriate text boundaries. In this case, that means treating the whole orthographic syllable as a unit.
Font-dependent segmentation
Some applications successfully apply tailoring rules to treat conjunct clusters as unbreakable units, providing a way to address the problem just mentioned. There is, however, an additional problem which is somewhat less tractable.
In a nutshell, if the vowel-killer is hidden CvCV should be treated as an unbreakable unit, and if the vowel-killer is visible it should be treated as two separate segments (Cv and CV).
What's problematic about this is that there is no difference whatsoever in the underlying code point sequence, and yet the segmentation behaviour has to be different. The only clue as to how to segment this sequence comes in the visually rendered shapes .
Currently, browsers are unable to distinguish between consonant clusters that should be handled as a single unit, and those that should not.
This causes a problem for a script such as Tamil, which almost always uses the visible vowel-killer (pulli) to indicate consonant clusters, but has two clusters for which the same vowel-killer code point produces conjuncts ('ksh' and 'shri'). Normally, Tamil consonant clusters can be split into multiple text units, but not those which are conjuncts. It is therefore necessary to apply different rules, according to the specific letters occuring in the syllable.
The Unicode Standard recognises 3 types of vowel-killer.
Pure_Killer types
are always rendered visibly and don't cause conjunct formation. They are generally not a problem for segmentation.
Invisible_Stacker types
always cause conjunct formation, and should never be rendered visibly. Breaking between such viramas and subsequent consonants is always wrong, but unfortunately that's what applying grapheme cluster rules does.
Virama types
are sometimes rendered visibly in a way that breaking after them would be fine, and sometimes they participate in conjunct formation, so that breaking after them causes problems. These are particularly problematic, for the reasons described here.
But the problem is wider than this. It is possible that, for the exact same sequence of characters, one font has the glyphs needed for a particular conjunct, but another doesn't. In the latter case, the font will generally show the vowel-killer explicitly to indicate the absence of the intervening vowel.
Here, for example, is a rendering of the previous Bengali word without the conjunct formation.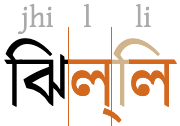 Note, in particular, that the prescript vowel sign ('i') now appears between the two 'l' letters. It doesn't appear to the left of the whole cluster any more. A crucial difference between this and what we saw before is that we now have three segments in the word: 'jhi' + 'l' + 'li', and text can be split at any of these grapheme cluster boundaries.
However, because it is impossible to tell the difference between the two different rendered outcomes by looking at the code points, unless some way is found to detect the shape of the actual rendered text it is not possible to always apply the correct segmentation in the face of such variations.
Segmentation that splits glyphs
The figure just below shows a news column where the second line is a single word. The word is so long that there is no room to add another word to the line. To maintain the justified line ends, the word has been stretched to fit by inserting equal amounts of space between each grapheme cluster.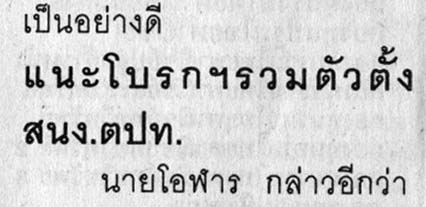 Combining characters above and below base characters are kept with the base, but space is added between any spacing vowel-signs and the base consonant. This is mostly straightforward in Thai because, unlike South Asian scripts, most vowel-signs are ordinary spacing characters, and therefore grapheme-clusters.
One particular combination, however, needs some extra attention. The sequence shown at the left of the figure just below has to be broken down into one base character and two combining marks, and then the spacing needs to be applied before the second mark.

Apart from the extra work required to recompose the vowel-signs, notice that the space is now inserted between two combining marks, ie. the first item is a grapheme cluster but the second is a code point.
Tamil and other writing systems take this a step further, particularly in relation to text justification and letter-spacing.
Tamil has many very long words, and in Tamil news columns it may not be possible to fit more than a single word on a line. In such cases it is common to stretch the word to fit the whole width of the line. To do so, equal space is added between each non-connected glyph across the line, regardless of whether a glyph is a grapheme cluster, or even a single code point.

As for the Thai example, the space is inserted evenly between the unconnected glyphs.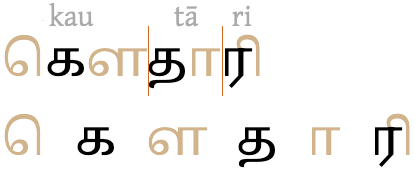 In the figure just above, the last grapheme cluster (on the right) is kept intact, because the vowel-sign is joined to the base consonant.
To its immediate left, the base character and combining mark that make up the middle syllable have been split apart, so the units are codepoints rather than grapheme clusters.
The decision as to which sequences of base character plus combining character constitute typographic units, in this case, depends on how the glyphs will be rendered.
The sequence of three items on the far left is actually composed of only two code points, க [U+0B95 TAMIL LETTER KA] followed by the circumgraph ௌ [U+0BCC TAMIL VOWEL SIGN AU]. Notice that there are spaces between the base consonant and both glyphs that make up the vowel-sign.
In such cases, the typographic unit may be at the sub-codepoint level !