Text segmentation
A string of Unicode-encoded text often needs to be broken up into text elements programmatically. Common examples of text elements include what users think of as characters, words, lines (more precisely, where line breaks are allowed), and sentences. The precise determination of text elements may vary according to orthographic conventions for a given script or language. The goal of matching user perceptions cannot always be met exactly because the text alone does not always contain enough information to unambiguously decide boundaries. For example, the period (U+002E FULL STOP) is used ambiguously, sometimes for end-of-sentence purposes, sometimes for abbreviations, and sometimes for numbers. In most cases, however, programmatic text boundaries can match user perceptions quite closely, although sometimes the best that can be done is not to surprise the user. Word boundaries are used in a number of different contexts. The most familiar ones are selection (double-click mouse selection, or "move to next word" control-arrow keys), and "Whole Word Search" for search and replace. They are also used in database queries, to determine whether elements are within a certain number of words of one another . Grapheme cluster boundaries are important for collation, regular expressions, UI interactions (such as mouse selection, arrow key movement, backspacing), segmentation for vertical text, identification of boundaries for Initial-letter styling, and counting "character" positions within text. [[!UAX29]]
Solution for word boundaries:
User-percieved characters boundaries should be based on tailored Grapheme Cluster Boundaries to conform Indic orthographic syllable definition

In case of Devanagari phrase separator called purna viram (। , U+0964 ) and deergh viram( ॥ , U+0965 ) used to mark end of the verse as in Sanskrit text, shlokas etc.),In some of the browsers ending word is selected with purnaviram on double-click while in some browsers purna viram is selected as a separate.So the properties of purna viram and deergh viram should be same as the properties of FullStop or other punctuation marks so that new line should not begin with purna viram and deergh viram.
For others characters, the text segmentation should be done as Indic orthographic syllable.
Indic script behavior in initial letter styling is based on syllables, rather than individual letter forms.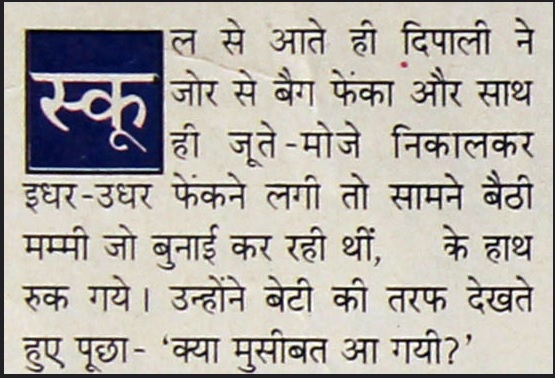 The above Figure shows an example of a drop intial in Hindi. In the first word of the paragraph, स्कूल ('skūl'), the sequence of characters is stored in memory is as follows: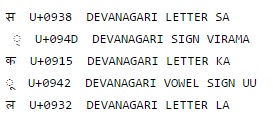 There are two syllables in this word: SA+VIRAMA+KA+UU and LA. Note, however, that there are three Unicode grapheme clusters here: SA+VIRAMA, KA+UU and LA.
Styling is done on the basis of the whole orthographic syllable, not the first character, nor even the first grapheme.
Line breaking
When inline-level content is laid out into lines, it is broken across line boxes. Such a break is called a line break. In most writing systems, in the absence of hyphenation a line break occurs only at word boundaries. Many writing systems use spaces or punctuation to explicitly separate words, and line break opportunities can be identified by these characters. Line breaking, also known as word wrapping, is the process of breaking a section of text into lines such that it will fit in the available width of a page, window or other display area.
Hyphenation
There are different cases of hyphenation, some of the cases are given below :

Case 1 : Hyphens are commonly used in Copulative compounds words in Hindi language. Hindi has both prefixes and suffixes which are joined to words with a hyphen.

नर-नारी, लाभ-हानि, माता-पिता, ऊंच-नीच

Case 2:Single word can breaks at the end of the line follow Indic orthographic syllable using hyphen.Following example shows correct representation of word आकर्षण and विज्ञापन using hyphen :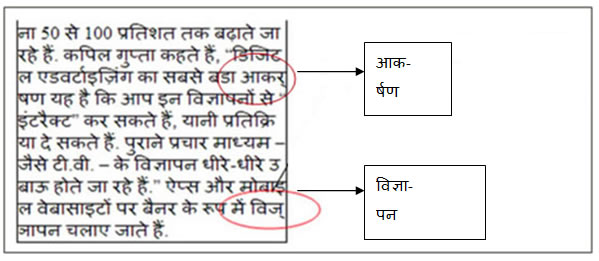 Guiding principles of Line breaking for Indian languages
In Indic writing system , it is preferred that line breaks at word boundaries ,if required following principles may be adhered :
Rule 1: New line cannot begin with following symbols/Punctuation marks. Also these should be retain with the associated text
Symbols

Character name

Unicode code-point

।

DEVANAGARI DANDA

U + 0964

॥

DEVANAGARI DOUBLE DANDA

U + 0965

)

RIGHT PARENTHESIS

U + 0029

+

PLUS SIGN

U + 002B

*

ASTERISK

U + 002A

-

HYPHENATIONPOINT-VISIBLE HYPHEN
HYPHENATION-SOFT HYPHEN

U + 2027
U+ 00AD

/

SOLIDUS

U + 002F

,

COMMA

U + 002C

.

FULL STOP

U + 002E

:

COLON

U + 003A

;

SEMICOLON

U + 003B

=

EQUALS SIGN

U + 003D

>

GREATER-THAN SIGN

U + 003E

]

RIGHT SQUARE BRACKET

U + 005D

_

LOW LINE

U + 005F

|

VERTICAL LINE

U + 007C

}

RIGHT CURLY BRACKET

U + 007D

~

TILDE

U + 007E

%

PERCENT SIGN

U + 0025
Rule 2: The definition of Indic orthographic syllable may be used to break the line and a hyphen should be at the breaking point so that word can be read intuitively However the language specific morpho-phonemic rules and industry practices (from media, publishing and grammar books) could be used for hyphenation. U+ 00AD (soft hyphen) is used in some languages such as Tamil and Malayalam.

Rule 3: The hyphenated words can be broken at the hyphen e.g.:
नर-नारी should be treated as:
नर- on the first line and नारी on the next line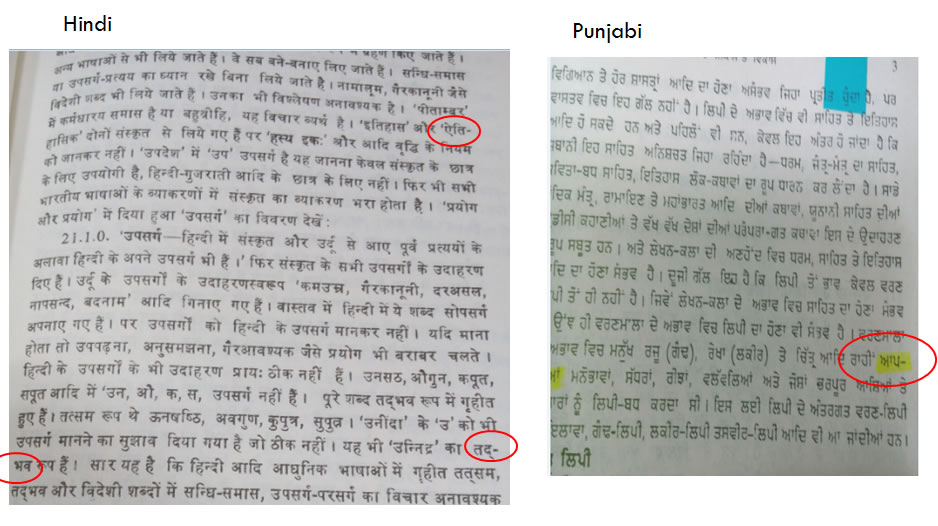 Rule 4: Expression with mathematical symbol should be treated as single unit so that at the end of the line expression should not breaks at operator level
Rule 5: Breaking should not be allowed at numerical values such as currency values, year etc. e.g.
"100.00" or "10,000", nor in "12:59"
Initial letter styling
Drop initial is a typographic effect emphasizing the initial letter(s) of a block element with a presentation similar to a 'floated' element.
Selecting initial letters
Initial letters in Indic scripts must be selected on the basis of orthographic syllables, rather than individual letter forms (see an example at the end of ). A detailed definition of Indic syllables can be found in . In Indian languages the size of the initial letter is determined by the number of the lines between the top line of the syllable and the lowest bit in the orthographic Indic syllable cluster where subjoined consonant and other diacritics appear.
Typical drop initial usage in Indic scripts
Most of the Indic drop initial letters in magazines and newspapers use 2 to 4 line drops. Some examples are shown below.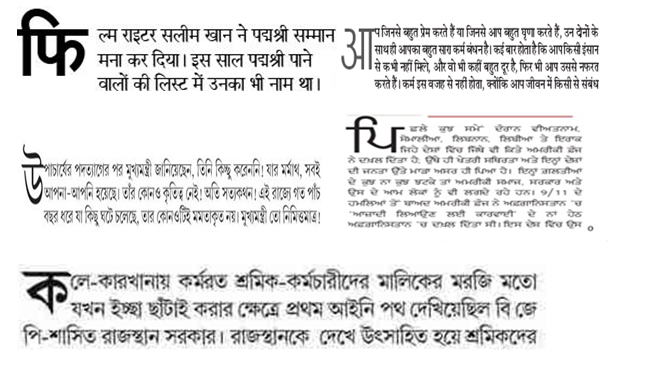 The sunken and raised initial letter are not preferred in Indian languages. In examples of this kind, reference points on the drop cap must align precisely with reference points in the text. In Indic scripts the top reference point is the hanging base line for those scripts that have one, and the bottom alignment point is the text after-edge.
Initial letter wrap property is not applicable for Indian languages. No contour-filling is required in Indian languages.
Alignment of the top line of the non-highlighted characters at the top of the thicker top line of the initial letter is common in India. In some examples the top lines of the initial letter and the following letters don't touch. This is due to variable technology/formats used by the publishers. It is preferred that both the top lines of Initial letter and neighbouring text should touch.
Here are some additional examples of initial highlighted letter and drop letter based on the Indic syllable definition.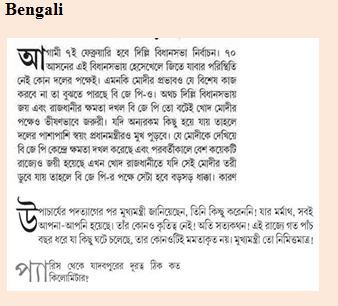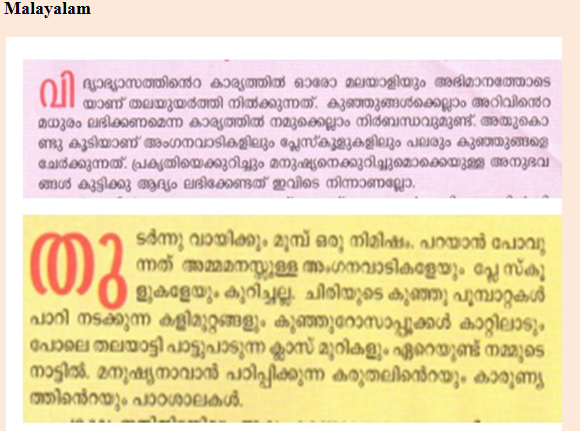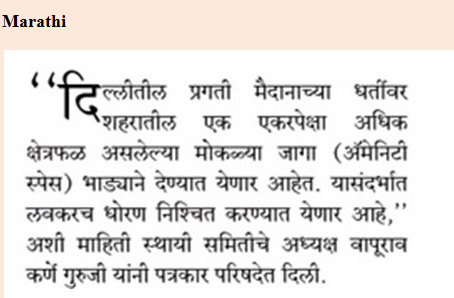 The remainder of this section describes the detailed rules for placement and alignment of characters with initial letter styling relative to the adjacent text.
Alignment of Initial letter of Indic scripts with hanging baseline
Indian languages which use hanging baseline such as Hindi, Bengali, Gujarati, Marathi, Punjabi etc. The part from the hanging baseline and the ascent of the Initial letter may follow the following mechanism, where n = h/2:

In Indic scripts that have a hanging baseline, the top alignment point is the hanging baseline, and the bottom alignment point is the text-after-edge, and the hanging baselines of both the initial letter and first line of text should be aligned.
Scripts that don't have hanging baseline such as Kannada, Tamil, Telugu, Malayalam , Odia etc
Publishers in India commonly used the following rules for such scripts:
Ascent of the first non-highlighted line is equal to the median/mean line of the initial letter as shown below :
Based on above observations the general rule for South Indian languages Indian languages scripts will be :
¼ height of the total Drop Cap Height projected or ascended above the ascent of the first-line
¾ of the total Drop Cap Height occupied or descended from ascent of first line or X1 to descent of the last line or line XN.
Initial Letter box formatting in Indian languages
When initial letters are highlighted within a box, Indian publishers commonly use different heights for the boxes and sizes for the characters. It is proposed that the syllable within the box is centre-aligned with reference to the box parameters as shown in the figure below :

Collation
Collation is one of the most important features for Indic languages . It determines the order in which a given culture indexes its characters. This is best seen in a dictionary sorting order where for easy search words are sorted and arranged in a specific order. Within a given script, each allo-script may have a different sort-order. Thus in Hindi the conjunct glyph क्ष is sorted along with क , since the first letter of that conjunct is क and on a similar principle ज्ञ is sorted along with ज . The same is not the case with Marathi and Nepali which admit a different sort order.
Different scripts admit different sort orders and for all high end NLP applications. Sorting is a crucial feature to ensure that the applications index data as per the cultural perception of that community. In quite a few States, sort order is clearly defined by the statutory bodies of that state and hence it is crucial that such sort order be ascertained and introduced in the document .
The order(left to right) as given below is pertinent to sorting by a computer program and is compliant with CLDR as laid down by Unicode.
 ़
\u093C
ॐ
\u0950
ं
\u0902
ँ
\u0901>
ः
\u0903
अ
\u0905
आ
\u0906
इ
\u0907
ई
\u0908
उ
\u0909
ऊ
\u090A
ऋ
\u090B
ऌ
\u090C
ऍ
\u090D
ए
\u090F
ऐ
\u0910
ऑ
\u0911
ओ
\u0913
औ
\u0914
क
\u0915
ख
\u0916
ग
\u0917
घ
\u0918
ङ
\u0919
च
\u091A
छ
\u091B
ज
\u091C
झ
\u091D
ञ
\u091E
ट
\u091F
 ठ
\u0920
ड
\u0921
ढ
\u0922
ण
\u0923
त
\u0924
थ
\u0925
द
\u0926
ध
\u0927
न
\u0928
प
\u092A
फ
\u092B
ब
\u092C
भ
\u092D
म
\u092E
य
\u092F
र
\u0930
ल
\u0932
ळ
\u0933
व
\u0935
श
\u0936
ष
\u0937
स
\u0938
ह
\u0939
ऽ
\u093D
ा
\u093E
ि
\u093F
ी
\u0940
ु
\u0941
ू
\u0942
\U0943
\U0944
\U0945
े
\u0947
ै
\u0948
ॉ
\u0949
ो
\u094B
ौ
\u094C
्
\u094D
Following is the sort order of Consonant 'क'
| | | | | | | | | | | | |
| --- | --- | --- | --- | --- | --- | --- | --- | --- | --- | --- | --- |
| क | कँ | कं | कः | का | कि | की | कु | कू | कृ | के | कॅ |
| कै | को | कॉ | कौ | क् | क़ | | | | | | |